At North Jersey Appliance Repair, we're serious about your satisfaction. We understand that when you need home appliance repair, you don't need it in a few weeks—you need it now. That's why we've made fast, quality service our number-one priority. We want to get your appliance—and your life—back to normal as soon as possible. 
But that's not all! We're also committed to customer service. That means answering your questions and keeping you informed about the repair process, on top of providing high-quality workmanship that will stand the test of time. The North Jersey Appliance Repair team is licensed, insured, and EPA-certified, so you know you're getting technicians who know what they're doing. We also offer a 90-day guarantee on parts and labor, because we truly care about meeting your appliance repair needs, now and in the future. We've got more than 10 years of experience serving homeowners in Bergen County, including in the towns of Ramsey, Saddle River, and Mahwah. We also service residential appliance models in commercial settings like churches, offices, and community centers. If you live or work in the area and need appliance repairs, look no further than North Jersey Appliance Repair.
Complete Appliance Repair Services
Contact us if you need refrigerator repair, washer/dryer repair, or dishwasher repair. We're also there for you if you need stove, range, or oven repair. As a comprehensive home appliance repair service, we work on most major brands, including: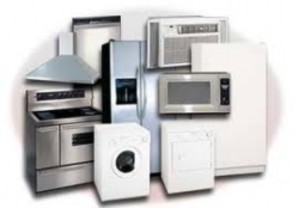 Maytag
GE
KitchenAid
Frigidaire
Gaggenau
Whirlpool
Miele
And many more!
Want to know what we can do for your specific unit? Call us with the problem, as well as your machine's make and model, and we'll talk you through possible solutions and set up an appointment to take a look in person. No oven repair, refrigerator repair, or washing machine repair project is too large or too small for the experts at North Jersey Appliance Repair. When you hire us to fix your malfunctioning appliance, we won't rest until the job is done.
Microwave Repair
Unlike some appliance repair companies, we don't shy away from small appliances. Call us if your freestanding or over-the-range microwave breaks down. Our microwave repair experts will be there to fix the problem, whether your model has lost heating power, needs a new timing mechanism, or is having another performance issue. Microwave repair can lengthen the life of your unit and improve its overall function. If you need microwave oven repair, North Jersey Appliance Repair is here for you!
Ice Maker Repair
If your freezer's ice maker suddenly starts to leak or stops producing ice, you don't have to throw up your hands and return to the days of tap water and ice cube trays. Call in the ice maker repair experts at North Jersey Appliance Repair! We specialize in refrigerator ice maker repair, and we'll get your unit working like new in no time. When you set up an ice maker repair appointment with our professional technicians, you'll get the fast service and competitive pricing we're known for throughout Bergen County.
Emergency Services
We understand that appliances rarely break down at convenient times. We also understand that it can be a hassle to work appliance repair service visits into your busy schedule. That's why North Jersey Appliance Repair operates seven days a week. We'll strive to find the appointment time that works for you, so you can get your home appliances back to normal without rearranging your entire week. We're also available for emergency services! If you need urgent assistance, call North Jersey Appliance Repair immediately. We're just a phone call away, and we'll be there when you need us!