If your family enjoys home-cooked meals, a broken oven or cook top can be inconvenient and frustrating. You'll be stuck eating cold food, prepackaged meals, or unhealthy takeout until the problem is resolved. But that's not the only reason to contact the oven repair professionals at North Jersey Appliance Repair. A malfunctioning oven, stove, or range can also be a danger to your home and family, putting you at risk for fires and gas leaks. Make your kitchen safe again and get your diet and routine back on track by calling North Jersey Appliance Repair today to discuss your oven and stove repair needs.
Our expert team of repair specialists is standing by to help you deal with any oven, stove, or cooktop issue, including: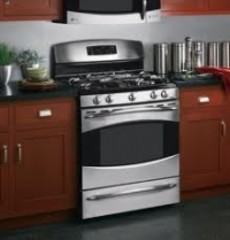 Lack of heat
Uneven heating
Individual burners that won't light
Malfunctioning thermostats
Malfunctioning lights or timers
Self-cleaning problems
Door not closing/sealing
And other issues!
We're qualified and trained to work on both gas and electric cook tops and ovens. We service a variety of brands and models, so whether you need GE oven repair or Whirlpool oven repair, look no further than North Jersey Appliance Repair! Plus, North Jersey Appliance Repair offers a 90-day guarantee on labor so you can feel confident in your stove repair and range repair needs being met well into the future.
Our team is licensed and insured for your quality assurance. We have more than 10 years of experience serving appliance owners in Bergen County, and our reputation for excellence when it comes to oven repair services and other repair solutions is unmatched. Now, we want to be the answer to all of your oven, stove top, and range repair problems.
Call us today to schedule your appointment. We're available seven days a week, and we even take emergency calls for oven and cook top repairs. We'll diagnose the problem and repair the oven, range, or stove quickly no matter what the malfunction may be. Don't hesitate—contact North Jersey Appliance Repair to get some of the fastest service around, coupled with quality workmanship. Our pricing is competitive, our technicians are skilled and professional, and we're ready to meet your oven and stove repair needs!